One Square Edinburgh | Sunday Lunch | Buffet
One Square Edinburgh | Sunday Lunch | Buffet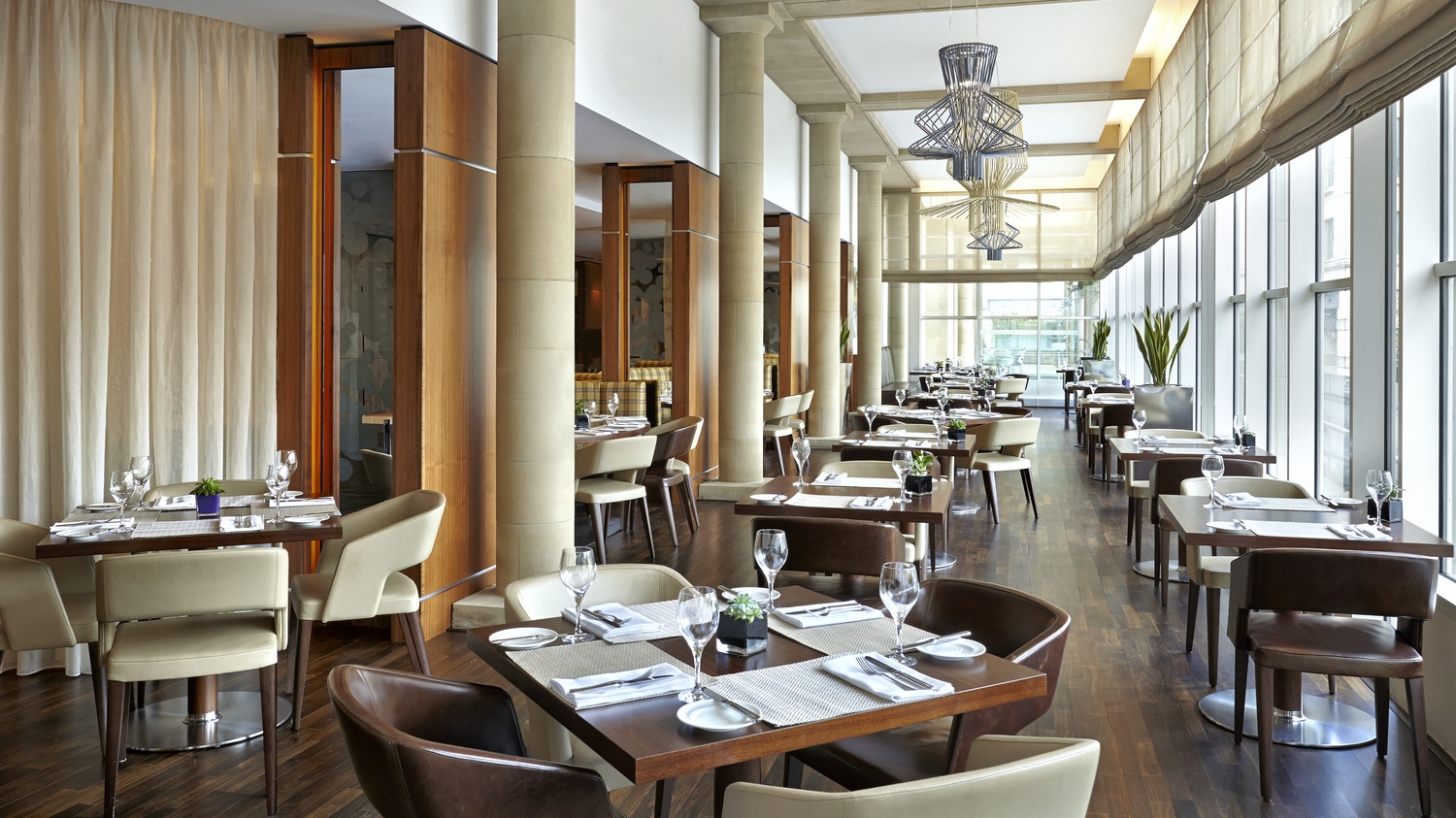 Sundays on the Square
Make the most of your weekend – join us at One Square every Sunday to enjoy our laid-back lunch menu.
Our Sunday lunch buffet is available from 12.30pm – 2.30pm.
Overlooking Edinburgh Castle, One Square is the perfect place to savour a Bloody Mary and enjoy the soothing sounds of our live gypsy jazz band Viper Swing, before tucking into locally sourced dishes.
One Square's seasonally changing Sunday lunch menu features hearty local favourites such as Heritage potato salad with Arran mustard and poached Loch Etive sea trout, while our mouthwatering roasts are served with fresh market vegetables, fluffy Yorkshire puddings and all the trimmings.
For afters, choose from a selection of Scottish Artisan cheeses, or a delectable array of fine cakes and indulgent mini puddings, freshly prepared by our expert pastry chefs. Of course, those with a sweet tooth might want to save some room for our ever-popular chocolate cascade and our two NEW editions, an ice cream cart with an array of flavours and DIY popcorn cart. With rich melted chocolate, fresh fruit and berries, not to mention a host of heavenly bite-sized treats for dipping, it's a chocoholics dream come true…
Menu
£29
Starters
Individual Atlantic prawn cocktails with talisker maire rose
Smooth chicken liver parfait domes with mandarin gel
Roasted Scottish smoked salmon, fennel puree cucumber linguine
Pea panna cotta with dried ham
Truffle and cauliflower set crème brulee
Salads & Platters
Carroll's heritage potato salad with Perthshire crème fraiche & spring onions
Red cabbage slaw
Asian style egg noodles with toasted cashew nuts
Build your own Caesar salad
Heritage tomato & feta salad
Broccoli, rice & red onion salad
Cumbrian ham with mozzarella & pesto
Cured seatrout with whisky & orange
Selection of Scotland's finest seafood
Sliced charcuterie & pickles
Mains
Roasted Orkney sirloin of beef with Yorkshire puddings, caramelised onion & thyme
Roasted pork loin with crackling & smoked apple sauce
Rosemary roasted red rooster potatoes
Honey glazed parsnips
Creamed Dauphinoise potatoes
Cauliflower cheese with wholegrain mustard
Heritage carrots with caraway seeds & parsley
Sautéed courgettes with red onions
Desserts
One Square famous chocolate fountain with sweet treat
Popcorn cart with sweet & savoury shakers
Lemon meringue pie
Peanut butter and salted caramel cake
Popping candy chocolate lollipop
Fruit tartlet
Large mint macaroons with mango pipette
New York baked cheesecake
Orange possets with peppered meringue
Pistachio brownie
Crème caramel